Spiked & Chained Leather Dog Collar - 2" Wide
Your Dog will stand out with this Heavy Duty Spiked & Chained Leather Collar.
100% Leather 2 Inch wide 2-Ply Leather dog collar.
In colors Black or Broen and in sizes 21, 22,23, 24,25,26, 27 28, 29,30,31,32
MADE IN THE USA!
For correct collar size, measure your dogs neck and add 4 inches.
For example the holes on a size 21 start at 15-1/2 and go up to 19 inches.
If the dog is still growing you may want to add 5 inches to the dogs exact neck size.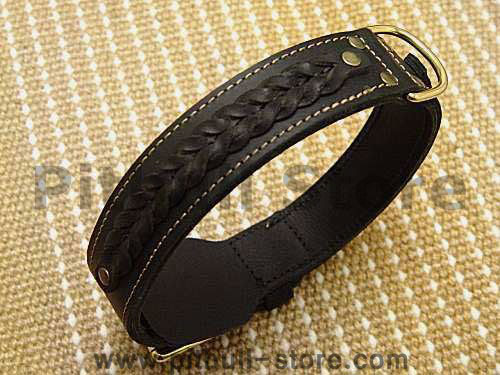 Would like to know more and also get special deals and discount?
Subscribe to our newsletter and get best info and best prices around
Bite Sleeves,Intermediate Sleeves,Puppy Sleeves,Hidden Sleeves,Bite Sleeve Covers,COMPRESSION BITE SLEEVE, Ambidextrous Protection Sleeves
- Hard agitation sleeves you can have from here - www.bite-sleeve-schutzhund-arm-store.com
Dog Collars, Leather Dog collars, Spiked dog collars, Padded dog collars, Best dog collars, Large dog collars, prong dog collars
- Dog training equipment for professional k9 schutzhund trainers
---